A very warm welcome to what is probably one of the world's most exciting construction sites (and itself under construction).
What are we constructing?  A different future.  A future we all wish and desire, one that is very very different to the one we currently appear to be heading towards.
You are invited to participate in this construction, by providing your ideas and inputs for this project over at our main construction site. Release what's in your heart; leave your mind out of it – it will only tell you that it can't be done!  We'll bring mind back in when we start realising the future we desire.
The main building site is here. No hard hats required, only open hearts and the knowing that what we truly intend will be. It is scientifically proven that this is so!
To ground our vision, and give practical expression of the future we desire, we are building a number of light living laboratories in the form of holistically designed villages. The mission of the laboratories is to develop models, and demonstrate, that in the future we design, humanity will live in harmony with itself, nature, the planet and the cosmos. The first Light Living Laboratory will be located in the United Kingdom.
For our vision to become the desired reality, we need to approach the planning process in a wholly integrated and holistic manner, for we now know how interdependent and interconnected everything is.  This means that what educational approach we shall be adopting for our children; the materials we use to build our houses; the way we govern ourselves; the nutritional requirements we have; and many, many more details are all integral parts of our design process.
We are often asked the inevitable question – how is a Light Living Laboratory different from other, longer established, intentional communities and eco-villages dotted around the world?  We clearly are aware of them and are drawing on their practical experiences; but our roots are in today's consciousness-embracing science ('con-science') which postulates that at quantum level we are all connected, even all one; that through consciousness we shape reality; and that love is the basic building block of all matter.  In embracing con-science, a Light Living Laboratory literally becomes a place in which to give expression of a society holistically demonstrating oneness, consciousness and love.
In order to manage holistic planning, we have defined 12 core strands that, woven together, provide the fabric with which we will be constructing our laboratory-villages, and with them the future.
The 12 core strands we have woven into our fabric for the future are presented in the following diagram -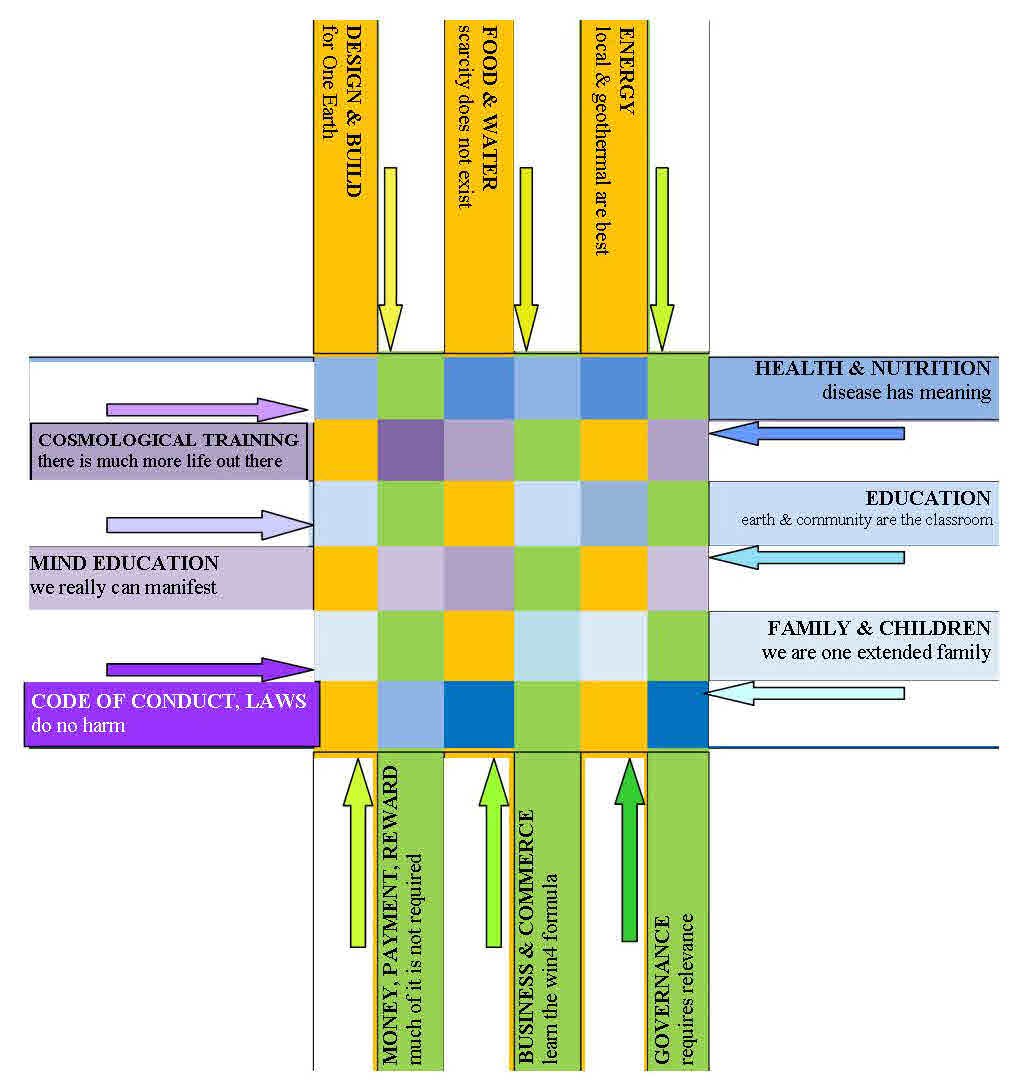 Each core-strand is made up of many sub-strands, which each need to be identified, it and its inter-connections studied and understood, before it can be woven into the core strand, and from there into the planning fabric of our light living laboratories, and the future.
The joy of a wikispace, which is our main building site, is that it provides a platform on which ideas can be developed, collected, grouped and displayed. This creates a fertile environment known to cross-fertilize ideas and trigger yet more.  Anybody can contribute idea and suggestions and offer comments.
Once you register with, or become a member of, our wikispace, you can easily contribute ideas, pictures, examples that will be seen by everybody else; you can even introduce sub-strands in the form of new wikis. You can even become an editor of one or several sections of our wikispace.  All that is required is the clicking of a button or two. So, if like us, you have some ideas, wishes and dreams for the future, please join this construction site.
By simply registering on the site, you will be able to make immediate comments, pose questions and so join the design team.  If you want to edit your own wiki-pages or contribute to any of the others, please follow the instructions provided at http://www.lightlivinglab.wikispaces.com.
Our guidelines for contributors are simple -
as you are here, on planet Earth, you have contributions to make, no matter what you do; what age or gender you are; where you were born or now live; what your education level is; and what language you speak
you are not asked to talk about changing anything, in fact we don't want such discussions on this site : you are being simply asked to express what you would like the future to look like, how it feels, even tastes and smells
be as specific as you can when describing what it is you want this future to be like, please deal with one subject or issue at a time and go into detail
do not be overwhelmed by wordy, intellectual arguments, our hearts will be the best tool in helping define the future (we'll bring the head in when we start the process of translating our vision into reality)
when expressing your ideas and thoughts for this future, do not worry about how this will be achieved, we know today that the 'how' will be taken care of once we get the process right
you don't even have to write anything – simply add pictures, videos, names of useful contacts, etc. to the relevant strand, or sub-strand
If you have ideas on what a Light Living Laboratory might contain; what it might look like; how large it might be; what technologies it might utilize; etc. – we want to hear from you.  We particularly invite schools and other places of learning to join this project. We can provide them with their own pages and sections. After all, the real beneficiaries of the new models for living we expect the laboratory-villages to be developing are those who are children and students today.
What's holding you back? Come on over to our building site.
If you have any general questions, please e-mail us at lightlivinglaboratory@gmail.com.
Peter B Rae
Project Orchestrator